It's tough out there for those of us trying to hustle, and your wedding day presents a whole new set of challenges. The air of romance can descend into deadset panic pretty quickly when the quotes start rolling in, and you realise you might have to sell a kidney before you can say "I do". 
Before we start pointing fingers at vendors and shouting "really? You want HOW much?", remember that these people are highly-skilled professionals who will do a phenomenal job if you choose to use their services for your special day. This article is not about bartering down your stylist - because if you want her, that means she's worth every penny she requests. It's about narrowing down your dream list to a few extra shiny points, and enabling those points to truly sparkle by cleverly masking the corners you had to cut along the way. Here are our top ten picks on ways to save where you can and still have your dream day.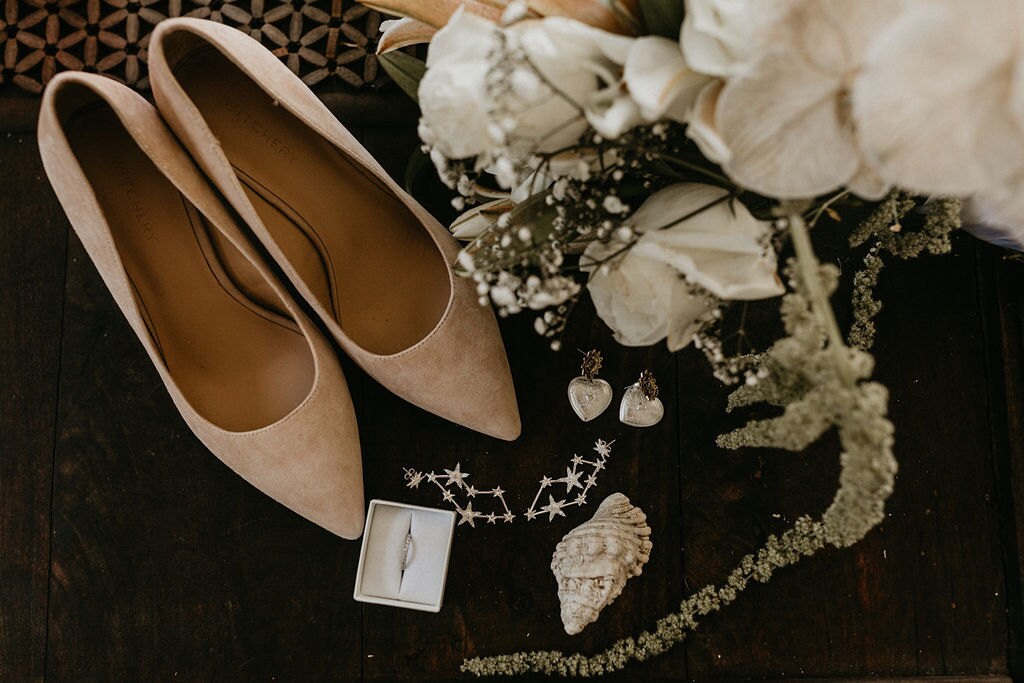 1. Save the dates
Let's start off on the right foot with the cheapest of cheap options: a free one! Instead of mailing out a stack of save the dates, create a simple one page website using WIX! All you will need is just one image of you and your betrothed, it is quite simple to do and if you can use Facebook you can use WIX. Then just email the website link to all your guests!
2. Consider a Winter wedding
Trust me, this isn't as intimidating as it sounds. June and July? Sure, the air will have a certain chill, and you'll probably need to consider an indoor venue or provide fairly calculated outdoor heating. But August? While still considered winter (in Australia), the days are often balmy. My partner and I had an August wedding by the beach and it was 26 degrees! Most venues will offer some kind of winter special to entice patronage in the cooler months. This could include a waiving of the reservation fee, or optional extras that usually accrue per-unit costs. When our final invoice came through, we noted over $5000 of additional charges had been waived because we bucked the trend and had our special day a few months early.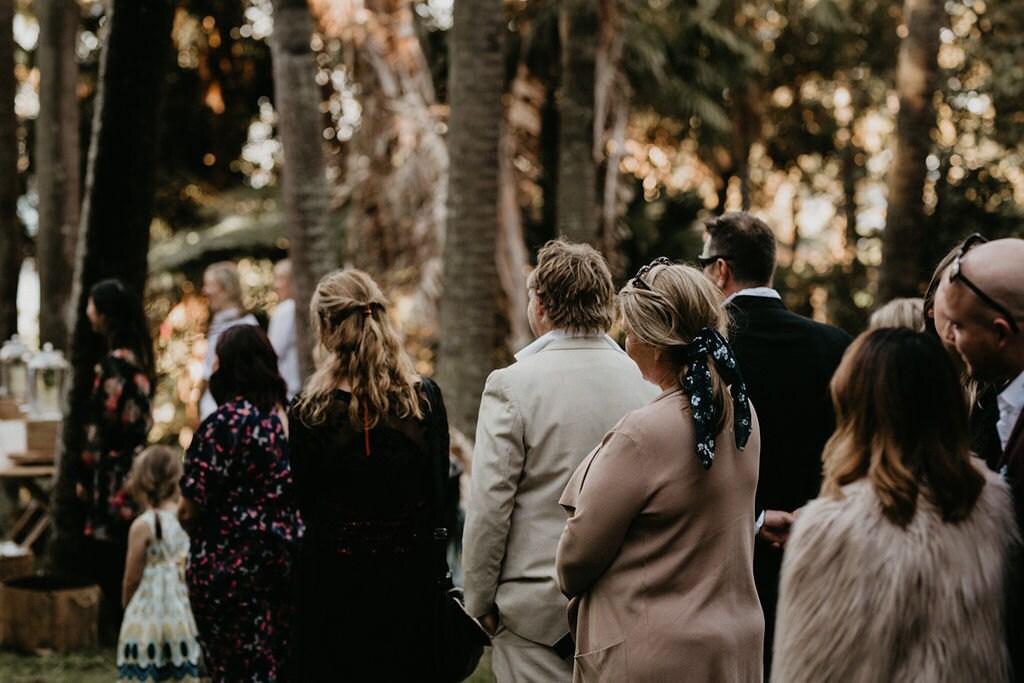 3. Opt for a venue that does it all 
While it can be tempting to look for a bargain "empty shell" and style it from head to toe with your own unique flair, each one of those personal touches is going to cost you, right down to the per-unit cost of those kraft linen napkins. While this will bring the visual "wow factor", consider that it might also be intimidating and expensive. Pages and pages of styling catalogues can start to feel hugely overwhelming when you're trying to stick to one theme and you're limited to a strict budget. It also takes a lot of props, plenty more than you might realise, to fill a space - and being slightly under-propped will be glaringly obvious to guests if the space feels too bare. I have a friend who spent $20,000 on styling alone to fill an empty warehouse. And it doesn't just end at the styling. You could likely need to bring in your own catering, your own alcohol, your own bar staff - not to mention cleaners the following morning, or be prepared to clean yourself! You're not going to want to start your first day as a married couple scrubbing cake crumbs out of the floorboards at 7am. All of these bills can rack up to four, even five digit figures. Why not consider a venue that hosts its own food and beverage services? A venue like this will most likely include a basic table setting, which can be tweaked for an additional cost (be wary; these can get expensive). While the cost per-head might seem high, don't forget it includes everything you would have had to outsource separately at individual costs.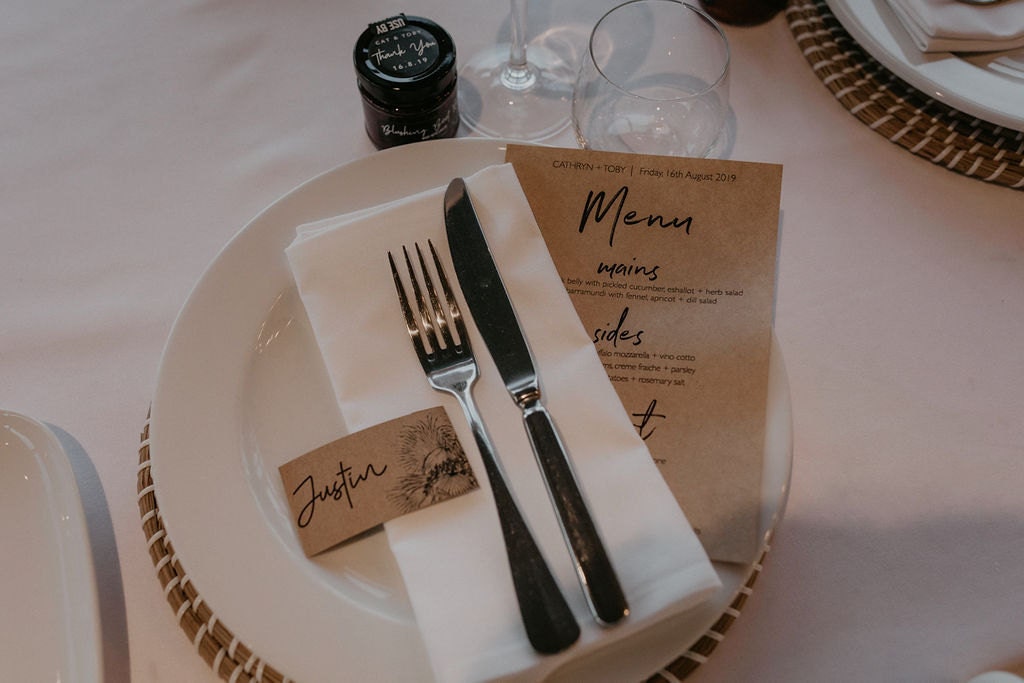 4. Think local
Book vendors that are local to your venue to avoid travel fees. These fees are often not included in published costs on vendors websites as they are additional (but valid) charges.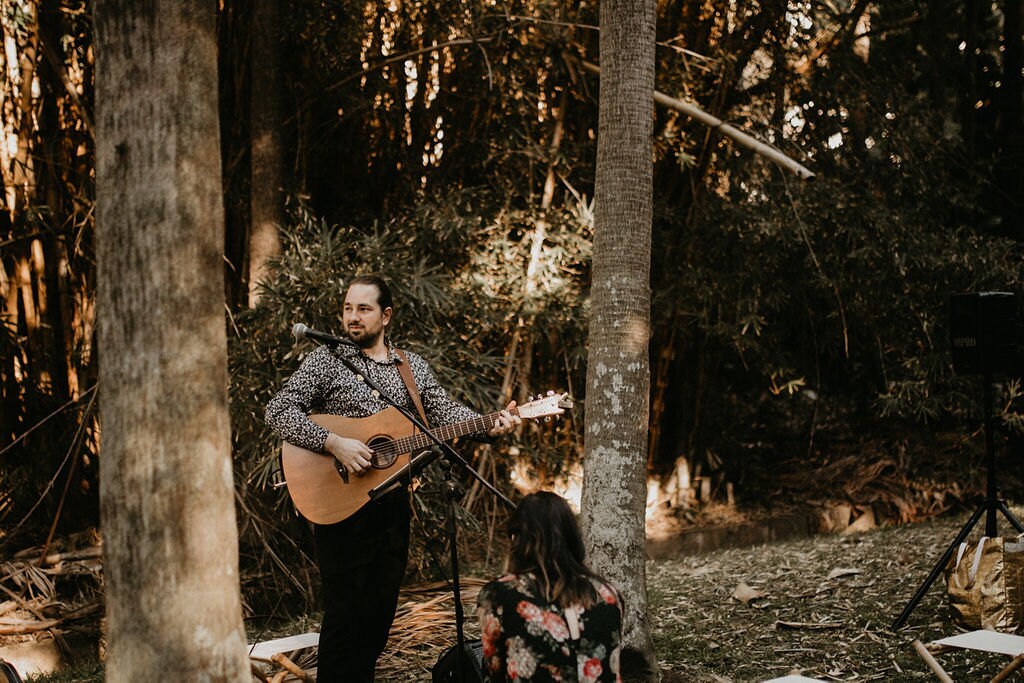 5. Invites
One of the first costs you will incur is of course your invites and there is a plethora of gorgeous options! Seriously consider your investment here because of course foil finished, letterpress invites in hand addressed linen envelopes are next level, they will also take a sizable chunk of your budget. If money is tight this is a great opportunity to save, potentially leaving thousands to invest in a something that will offer more tangible momentos of the day (like photography). We suggest digital download templates like these ones from Days of Joy. Or if you want access to the most efficient digital RSVP system, and to spend less than $50 on your invites, we highly recommend Paperless Post. 
6. DIY bouquets 
One of the best parts of my wedding was the excitement of the day before; getting up at the crack of dawn and driving to the flower markets with my mum and sister to sack their stalls for whatever blossoms caught our whim. When we got home, we laid all the flowers on the outside table and spent the morning arranging them exactly to our liking. We spent $200, which brought us five bridesmaid bouquets, a bridal bouquet, a flower girl posey and a cake topper. In NSW, the average cost of a wedding florist is between $1700 to $2000. We saved at least $1500 just by doing it ourselves. Don't let the thought of flower arranging intimidate you. A few simple hacks will make it simple for even the most uncreative of types among us. 
Choose one type of flower to hero ie. a single or dual tone of roses always looks amazing 
Aim for 10 stems for bridesmaids, 14 for the bride 
Trim the stems of excess leaves 
Bind with green florists tape 
Keep your beautiful bouquets away from heated air conditioning and direct sunlight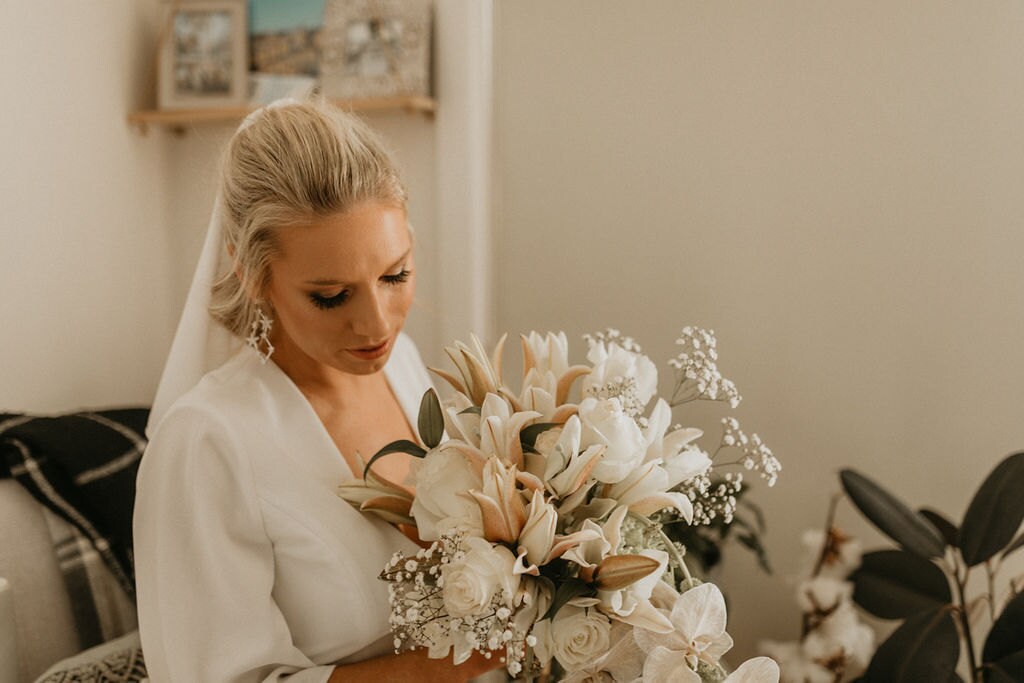 7. Skip the Arbour 
Your guests are there to see one thing - you two lovebirds saying I do. Don't get caught up in the theatrics of a one-of-a-kind backdrop. Keep in mind when selecting your venue that you'll also need a nook to host your ceremony, and try to choose somewhere that caters to both. Many venues can host both ceremony and reception, and they will provide a beautiful backdrop for your vows in their package. Alternatively, a simple sash of muslin can convert a tree into an arbour; an arrangement of candles, or get all new age and create a ceremony circle! We're seeing more and more of these alternative settings popping up on wedding blogs and we love the romantic symbolism of the eternal circle of love. You can do this using anything from stones to flowers, a large box of Everland dried petals arranged into a circle comes at a much lower price point than a fresh floral arbor.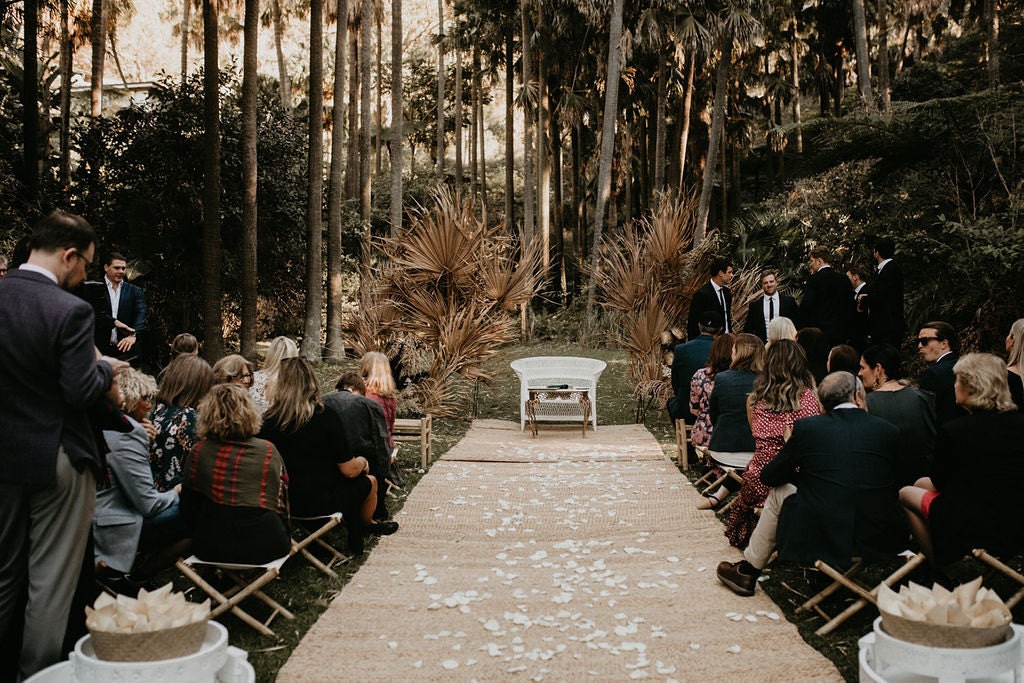 8. Capturing the day 
For this one, we're chasing that middle ground, because professional photographers are in a league of their own and we guarantee that receiving your wedding photos is a heart-cinching moment that you won't regret investing in. When choosing your photographer, spend the time emailing around for quotes, and utilise sites like Wed Shed and Wedbooker which are invaluable when it comes to connecting you with a plethora of vendors. What we suggest for this one is perhaps considering an elopement package, or a shorter package which captures your preparation and ceremony, and then DIY your own photos for the rest of the night. Ways to do this at various bugets include Polaroid, diposables (for some old school fun) or asking your guests to stick to a hashtag so you can access all the instagrammed pictures with ease. Flyers with the info placed around your venue are a great way to make this happen - you can order a personalised set here.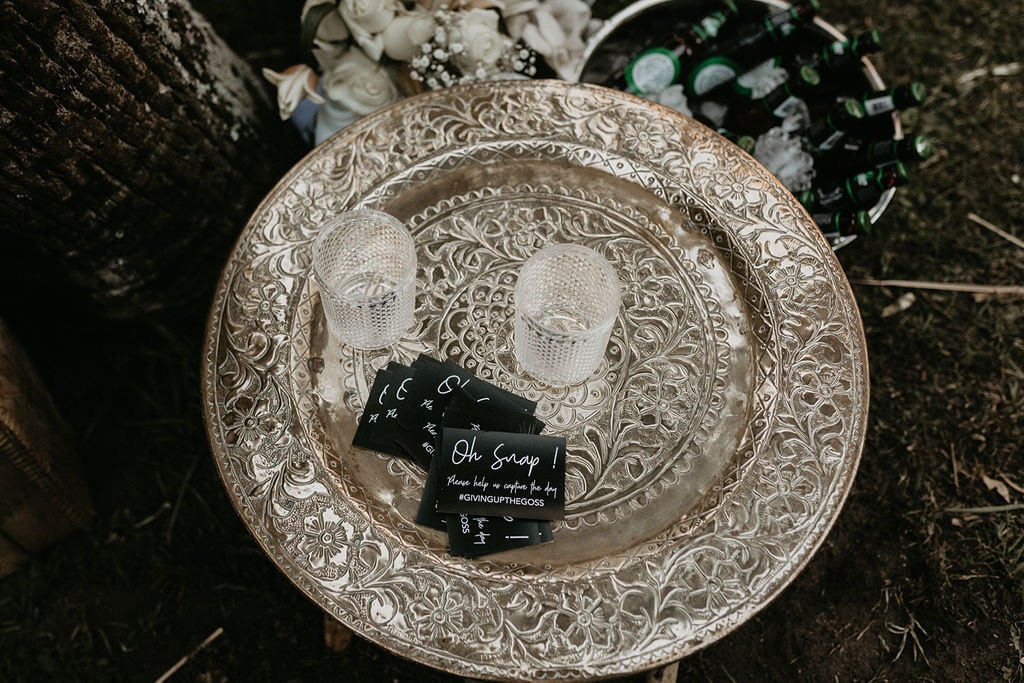 9. Bridesmaids gifts
Bridesmaid proposal and thank you hampers can easily cost upwards of $100. They are divine but not cheap, especially if you have a large bridal party. If your looking for a thrifty hack to pop the other question check out Everland's DIY Bridesmaid labels. Purchase any bottle of wine or a candle of suitable dimensions, whack on the label and voila!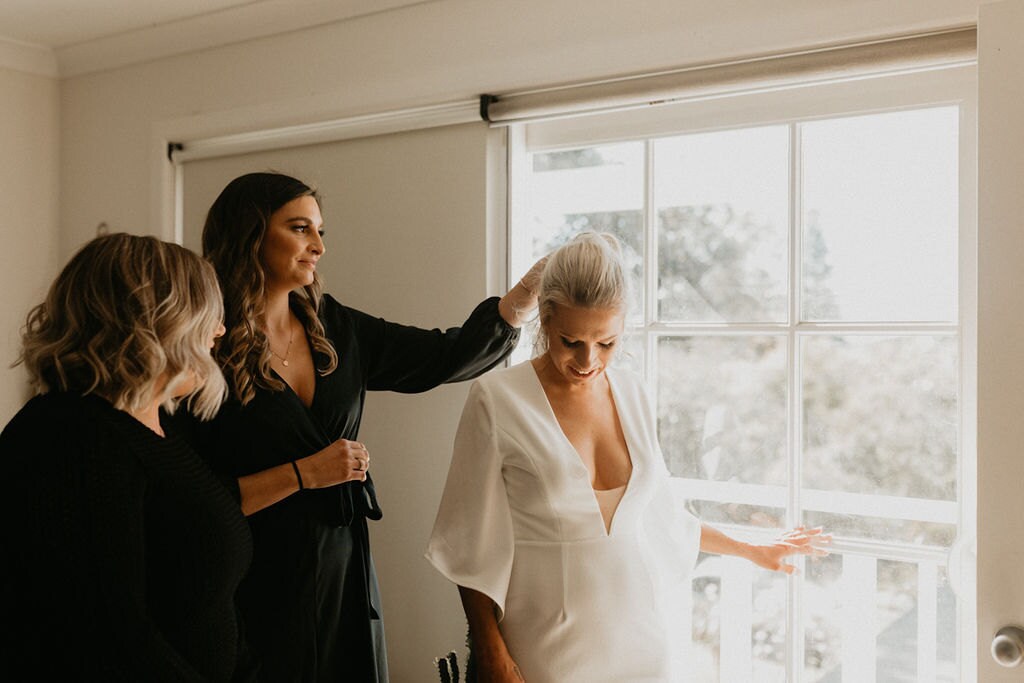 10. The dress
There are lots of options for modern wedding dress online from The Iconic to ASOS to our personal favouite BHLDN. Filter your options such as length and price with ease, but remember to check out the returns policy before purchase.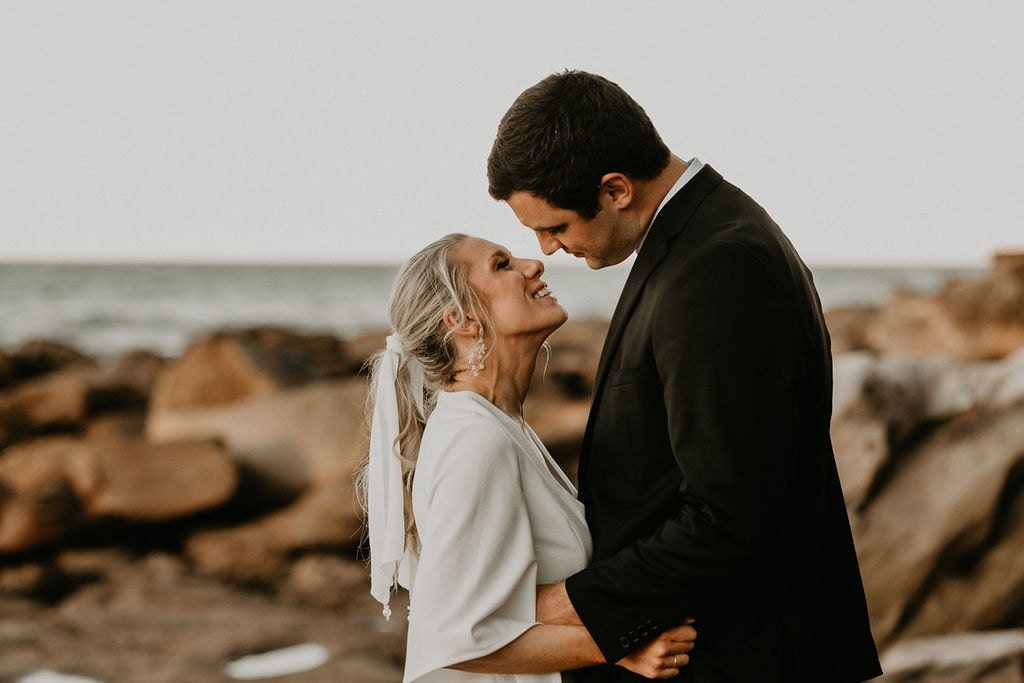 Our last hot tip, if you are truly on a very tight budget, is to firstly open your eyes to new possibilities outside the extravagant wedstival world of highly stylized gram-weddings. Embrace ideas such as court house ceremony with reception drinks at a local bar, a church ceremony with a morning tea reception or vows on the beach with the ocean as your backdrop and a picnic on the sand with your nearest and dearest.